Getting Started With IT Hit Map WebDAV Drive
To install the IT Hit Map WebDAV Drive run the appropriate .msi file and follow the instructions. Run ITHitMapWebDAVDrive_x86_ver.msi on a 32-bit Windows and ITHitMapWebDAVDrive_x64_ver.msi on 64-bit Windows. Reboot the computer after installation.
Registering IT Hit Map WebDAV Drive
The IT Hit Map WebDAV Drive is fully functional and does not have any limitations. However to start using the product you have to enter the license. You can either download the license file here or you can specify your e-mail address and name in the registration wizard and the license will be sent to your e-mail. The license is time-limited and the product will stop working after the trial period expires.
To start the registration wizard go to Start -> All Programs -> IT Hit Map WebDAV Drive and select Set License menu.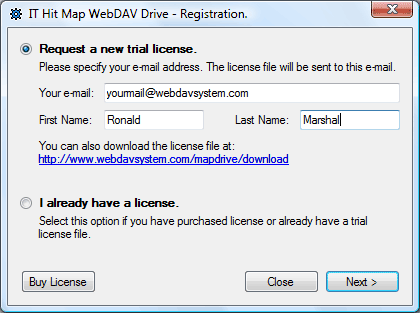 To activate the IT Hit Map WebDAV Drive, you will have to provide a license file at the final step of this wizard.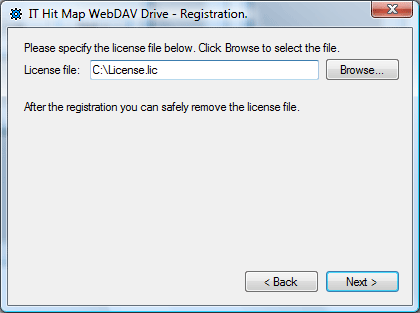 Mounting WebDAV Drive
To mount a WebDAV drive open Windows Explorer, right-click the Computer item and select Map WebDAV Drive menu: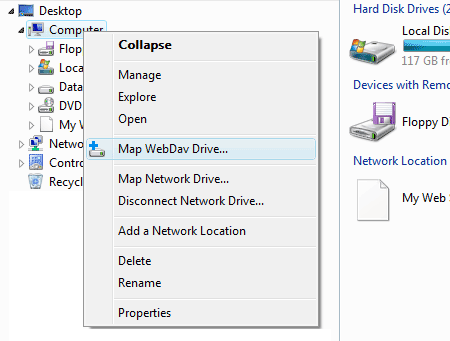 Select the drive letter and provide WebDAV server URL. The IT Hit Map WebDAV Drive supports Basic, Digest, NTLM and Kerberos authentication as well as secure SSL connection.
To connect to the server with your current Windows login information select Use current user credentials. The server will use authentication information of the user accessing the drive, in this case. To login to the server with any other credentials select Use following credentials and provide login and password.
To create a persistent connection check Connect each time computer boots flag. If this flag is checked the drive will be mounted every time you boot the machine.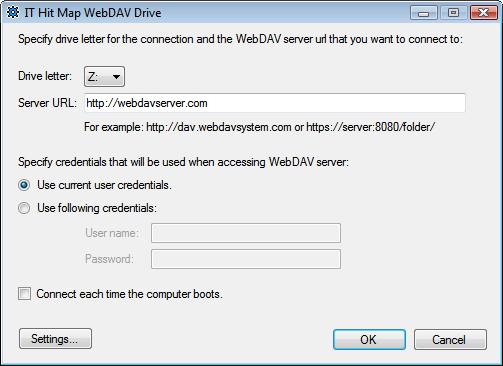 Finally, the new drive will appear as part of your file system: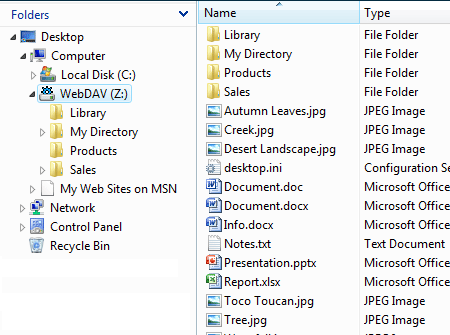 You can browse folders, copy, move, delete files and folders, open and save files as you usually do with any local or network drive. As soon as the drive is mounted to your local file system you can use any file management software, command prompt, Win 32 API, Java API, .NET Framework API for file management, etc.
Disconnecting WebDAV Drive
To disconnect the mapped WebDAV drive right click the drive item in Windows Explorer and select Disconnect WebDAV Drive menu: