Map WebDAV Drive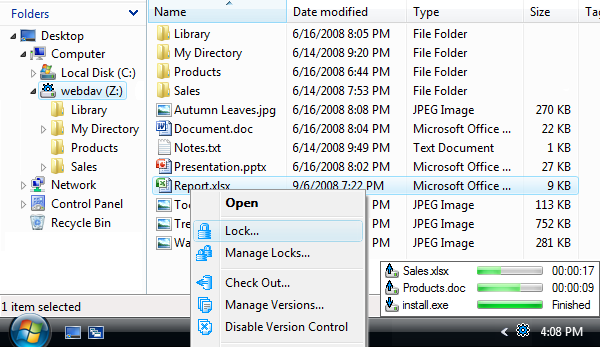 Drive mapping software based on latest Internet file management standards.
Features:
Easily programmed via .Net
Redistribute as part of your application
Supports localization, rebranding and customization
Supports Basic, Digest, NTLM and Kerberos authentication as well as SSL / HTTPS connections
Runs on Windows 7 / Vista / 2008 / XP / 2003 both 32 and 64-bit
WebDAV RFC 2518 and RFC 3253 compliant
Runs over HTTP via firewalls without any configuration
Lock / Unlock features: prevent other users from modifying your files
DeltaV support: browse file versions, download version and revert to specific version
With IT Hit Map WebDAV Drive any Windows application can securely access files on a server that supports WebDAV protocol. You can create, delete, copy, move files and folders; upload / download files, open and save files directly to WebDAV server.
As soon as Map WebDAV Drive mounts drive to a file system on your local computer you can use familiar Windows Explorer interface, command prompt or your favorite file manager. Your client applications no more need WebDAV support!
The IT Hit Map WebDAV Drive runs via firewalls over HTTP/SSL and does not require opening any additional ports. It utilizes the most modern Internet file management standards, security protocols and authentication schemas.
Getting Started...